Benefits of the Global OTC Platform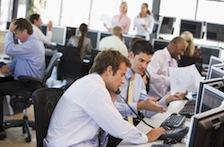 Global OTC is an Alternative Trading System (ATS) providing an electronic platform for trading Over-the-Counter (OTC) Equity Securities. Global OTC, the longest-serving ATS within the OTCBB market, offers fast, fair and efficient executions. The Global OTC philosophy is simple: offer best-price executions based on speed and transparency within the OTC Equity Securities marketplace.
Our subscriber's orders are electronically handled for execution at prices equal to or better than the National Best Bid or Offer (NBBO) for each security. All market orders or marketable limit orders are executed based on best-price methodology. Your order will either instantly execute against the Global OTC electronic limit order file at prices equal to or better than the NBBO, or they will enter into the Global OTC routing process to obtain the NBBO.
BENEFITS OF THE GLOBAL OTC PLATFORM INCLUDE:
A structure that incorporates limit and market order protection, limit order display and NBBO price protection
Access to market participants via a sophisticated routing system
Innovative order types
Principals consistent with the 'Manning Rule" and exemptions afforded to continuously quoted securities
Availability of full, transparent display of your customer's orders